Jay Khodiyar Engineering Works is among the most renowned and respected pump manufacturers in the pump industry, serving customers with top-quality industrial pumps.
By adopting the latest technologies, we have manufactured heavy-duty Air Cooled Pumps with effective mechanical designs to handle high-temperature liquids efficiently without breakdown.
Ideal for smooth operation in the toughest environment, our Air Cooled Pumps have a thermal-resistant soft packing seal behind the impeller that slowdowns the leakage and prevents the pumping from stopping if mechanical seal damage occurs.
Our Air Cooled Pumps deliver the highest quality and are one of the most effective air-cooled industrial pumps in the market.
Dynamically Balanced Closed Impeller
Low Maintenance
Maximum Components Interchangeability
Smart Shaft Design
Highly Efficient
Strong Construction
Type: End-Suction, Horizontal, Single Stage, Air Cooled Pump – Thermic fluid pump.
| | |
| --- | --- |
| Capacity | UP TO 40 m3 / hr |
| Head | UP TO 40 m3 / hr |
| Size | 25mm to 80mm |
| Speed | UP TO 3000 R.P.M |
| Pressure | UP TO 12Kg. /cm2 |
| M.O.C. | C.I, C.S, S.S.304, 316, Alloy-20 (Other MOC can be Supply on Request) |
Download Air Cooled Pump Catalog
Thermic Fluid Handling

Hot Oil Transfer

Edible Oil Applications

Plastic Industry

Synthetic Oil Transfer

Baking And Heating Applications

Paper Industry

District Heating System

Mineral Oil Industry

Various Chemical Industries

Textile Industry

Food And Drug Industry

Sugar Industries

Pharmaceutical Industries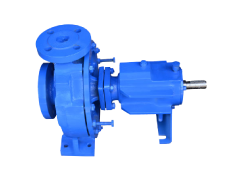 Need An Efficient Pump To Streamline Your Industrial Process?