Being one of the trusted industrial pump manufacturers and suppliers in India, we serve our customers with the best-in-class range of monoblock pumps that includes centrifugal monoblock pumps, agriculture monoblock water pumps, submersible pumps, and booster pumps. Our innovative range of monoblock pumps is designed to add value to customer industrial processes by ensuring superior performance in critical conditions. Jay Khodiyar Engineering Works monoblock pumps are the most cost-effective choice for reliable and efficient pumping. We also offer customized Monoblock Pump according to diverse industrial requirements at the most affordable prices.
Rugged Design
Superior Performanc
Durability
Cost Saving
Increased Productivity
Easy Maintenance
Head
up to 85 mtr/h/ hr
Capacity
up to 263 m3/hr/ hr
Discharge Size
25 mm to 100 mm
Power Rating
1.0 HP to 20 HP Three phase
0.5 HP to 2.0 HP Single phase
HP
upto 40 HP
Speed
up to 2880/1450 RPM
M.O.C.
C.I., CS, SS-304, SS 316, Bronze, etc
| | |
| --- | --- |
| Impeller | CI IS 210 FG 200 Bronze/SS410/304/316/h/ hr |
| Delivery Casing | CI IS 210 FG 200 / hr |
| Motor Body | CI IS 210 FG 200 |
| Shaft | Carbon Steel C40 SS410/304/316 |
| Shaft Sleeve | SS 410 Bronze (LTB2) |
| Protection | IP 44 IP 55 |
| Sealing | Gland Packed Mechanical Seat |
Download Monoblock Pump Catalog
Chemical Industry

Electroplating Plants

Metallurgical Industries

Steel And Stainless Steel Pickling Lines

Evaporation And Regeneration Units

Wet Flue Gas Cleaning Systems

Exhaust Air Scrubbing

Industrial Wastewater Treatment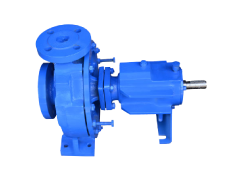 Need An Efficient Pump To Streamline Your Industrial Process?